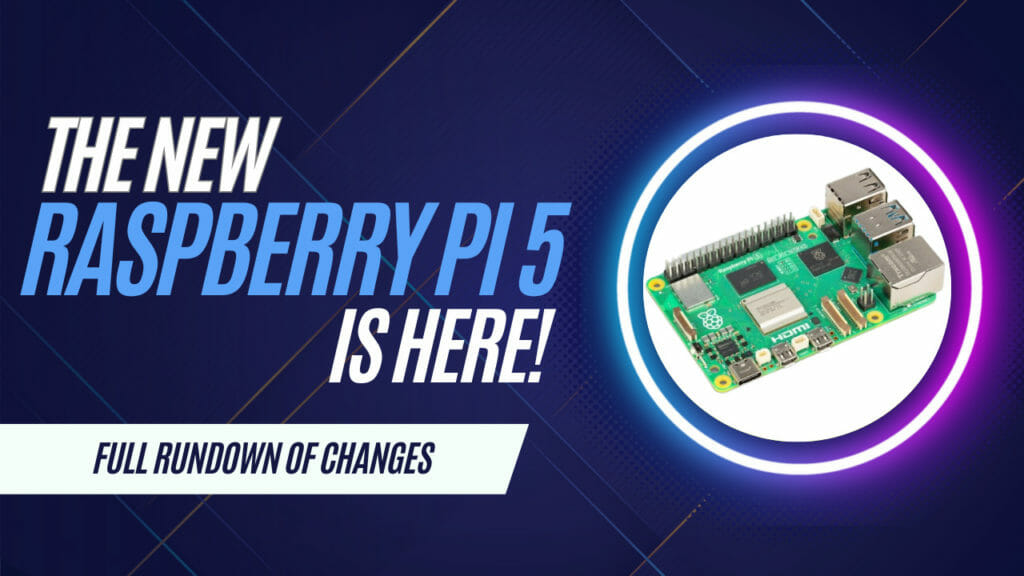 In the ever-evolving realm of technology, few gadgets have garnered as much admiration and attention as the Raspberry Pi series. Embraced by both hobbyists and professionals for its compact design and exceptional adaptability, each iteration has consistently raised the bar for affordable computing. Now, with the unveiling of the Raspberry Pi 5, we're about to step into a revolutionary chapter of this tech saga.
Boasting a dynamic new chipset, architectural enhancements, and innovative design modifications, the Raspberry Pi 5 isn't just a progression; it's a transformation. Dive in as we unwrap the nuances of this game-changing device, detailing its state-of-the-art features and understanding why it might just be the tech world's newest crown jewel.
Whether you're a tech enthusiast hungry for the latest scoop or someone just discovering the wonders of the Raspberry Pi universe, you're in for a treat. Welcome to the future of compact computing.
Key Features
2.4GHz quad-core 64-bit Arm Cortex-A76 CPU
VideoCore VII GPU, supporting OpenGL ES 3.1, Vulkan 1.2
Dual 4Kp60 HDMI® display output
4Kp60 HEVC decoder
Dual-band 802.11ac Wi-Fi®
Bluetooth 5.0 / Bluetooth Low Energy (BLE)
High-speed microSD card interface with SDR104 mode support
2 × USB 3.0 ports, supporting simultaneous 5Gbps operation
2 × USB 2.0 ports
Gigabit Ethernet, with PoE+ support (requires separate PoE+ HAT, coming soon)
2 × 4-lane MIPI camera/display transceivers
PCIe 2.0 x1 interface for fast peripherals
Real-time clock
Power button
The New Platform & Chipset Underpinning The Raspberry Pi 5
As we mentioned before, there are not one, but three specifically designed chipsets on the Raspberry Pi 5, and they come promising to usher in a new era of performance and efficiency to the world of single-board computers (SBCs).
BCM2712: Processor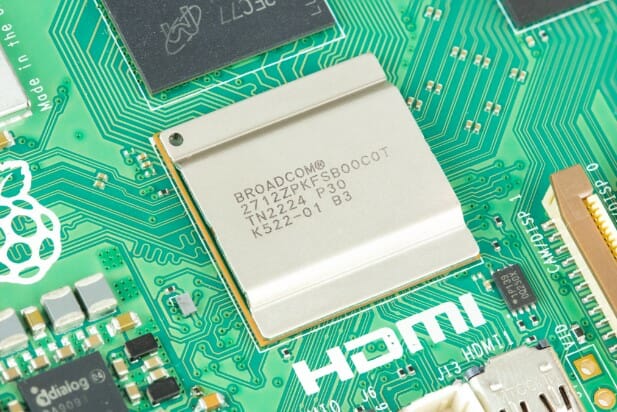 The BCM2712 is the heart of the Raspberry Pi 5. Manufactured by Broadcom, it's a progressive successor to the 28-nanometer BCM2711 AP found in the Raspberry Pi 4. With this new 16-nanometer AP, several architectural improvements have been introduced.
Central to the BCM2712 is a powerful quad-core 64-bit Arm Cortex-A76 processor, which runs at a whopping 2.4GHz. Thanks to a combination of more instructions per clock and a lower energy-per-instruction design, the Cortex-A76 offers an impressive jump from its Cortex-A72 predecessor.
Complementing the CPU is the next-gen GPU, Broadcom's VideoCore VII. This GPU, developed in-house in Cambridge, ensures that the Raspberry Pi 5 can drive two 4Kp60 HDMI displays simultaneously. Coupled with a 4Kp60 HEVC decoder and an upgraded Image Sensor Pipeline, multimedia tasks are set to be a breeze.
Memory needs have been addressed with a 32-bit LPDDR4X SDRAM subsystem, boasting a speed of 4267MT/s, more than double the effective speed of its Raspberry Pi 4 counterpart.
---
---
RP1: I/O Controller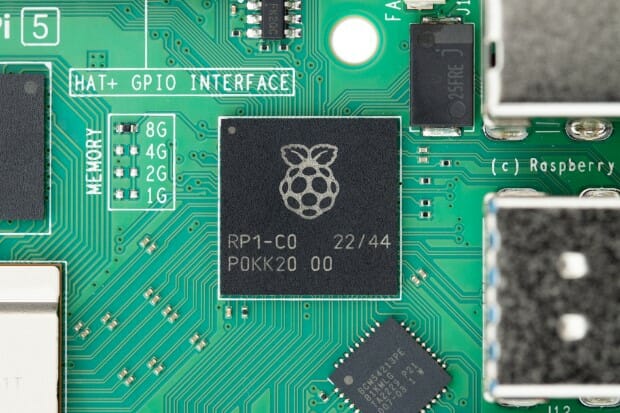 Breaking away from the monolithic AP architecture of previous Raspberry Pi generations, the Raspberry Pi 5 has introduced a groundbreaking disaggregated chiplet structure. Central to this architecture is the RP1, the dedicated I/O controller for the Raspberry Pi 5.
The RP1 effortlessly handles a range of I/O functions, ranging from USB interfaces and Ethernet controllers to GPIO-multiplexed low-speed interfaces. With a swift four-lane PCI Express 2.0, it maintains a robust 16Gb/s link back to BCM2712.
DA9091: Power Management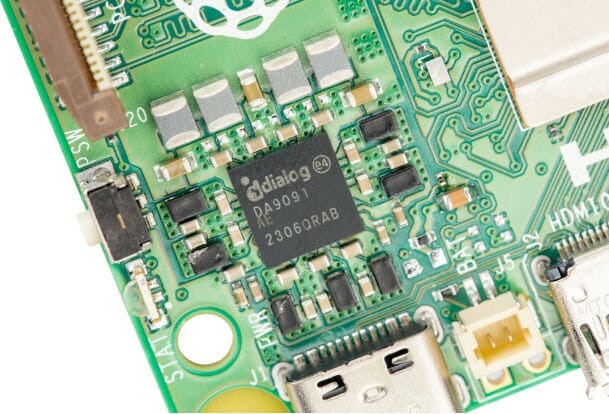 In collaboration with Renesas, the DA9091 "Gilmour" power-management IC (PMIC) has been designed to provide efficient power management for the Raspberry Pi 5. This PMIC has:
Eight separate switch-mode power supplies to cater to the board's power requirements,
A quad-phase core supply capable of offering a massive 20 amps of current to the digital logic within BCM2712.
Built-in features to cater to user requests, such as a real-time clock (RTC) and a PC-style power button for enhanced power control.
Carry Over From The Raspberry Pi 4 To Raspberry Pi 5
Two key components from the Raspberry Pi 4 have been retained to ensure consistent performance:
Infineon's CYW43455 combo chip offers reliable dual-band 802.11ac Wi-Fi and Bluetooth 5.0 with BLE support.
Ethernet connectivity is ensured by Broadcom's BCM54213 Gigabit Ethernet PHY. Although it keeps its functional integrity, its unique 45-degree angle placement might raise some eyebrows among traditional layout enthusiasts.
Evolution Of The Raspberry Pi 5 Form Factor
The Raspberry Pi series, since its inception, has been celebrated for its distinctively compact, credit-card-sized form factor. While the Raspberry Pi 5 embraces this iconic design, it also ushers in several transformative design and manufacturing modifications that distinguish it from its predecessors.
One of the most noticeable design alterations is the removal of the traditional four-pole composite video and analogue audio jack. However, users need not be concerned about this omission, as they can still access composite video through a pair of 0.1″-spaced pads located at the board's bottom edge. This video output is now generated by the new RP1.
In place of the former four-pole jack and camera connector, the board now features a pair of Flexible Printed Circuit (FPC) connectors. These connectors are equipped to provide bi-directional four-lane MIPI interfaces, enhancing their versatility. As a result, each connector can seamlessly link to either a CSI-2 camera or a DSI display. Furthermore, a strategic reshuffle in the board's design has relocated the smaller FPC connector, which once housed the display connector, to provide a single lane of PCI Express 2.0, paving the way for high-speed peripheral connectivity.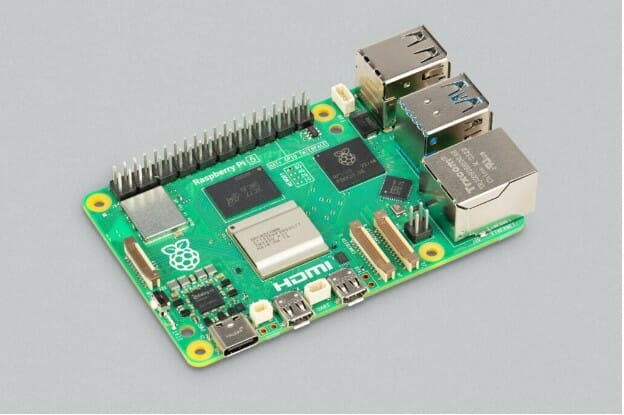 Another significant change involves the repositioning of the Gigabit Ethernet jack. This jack, which temporarily found a home on the top right during the Raspberry Pi 4 era, has made its way back to its original position at the board's bottom right. Alongside the Ethernet jack, the board now features the four-pin PoE connector. While this repositioning simplifies the board's design, it necessitates a compatibility transition from the previous PoE and PoE+ HATs.
Lastly, to address the heightened performance demands of the new chipset, the Raspberry Pi 5 has incorporated mounting holes explicitly designed for heatsinks. Moreover, JST connectors have been added to cater to a range of functionalities, such as the RTC battery, Arm debug and UART, and a fan with PWM control and tacho feedback.
From a manufacturing perspective, the Raspberry Pi 5 stands as a testament to the close-knit partnership between the Raspberry Pi foundation and the Sony UK Technology Centre in Pencoed, South Wales. This relationship, fostered over a decade, champions the merits of manufacturing products in close proximity to their design origins. Such proximity, in this case, between Pencoed and the engineering design centre in Cambridge, has facilitated the seamless transition of designs from paper to production. This synergy has led to the introduction of manufacturing innovations such as intrusive reflow for connectors, fully routed panel singulation for pristine board edges, and a novel approach to production testing, drawing inspiration from the testing of the RP2040 microcontroller.
---
---
Made Locally, Delivered Globally
Staying true to its roots, the Raspberry Pi 5 is designed in Cambridge and manufactured in Wales at the Sony UK Technology Centre. This local approach has allowed for consistent high-quality products and swift innovations.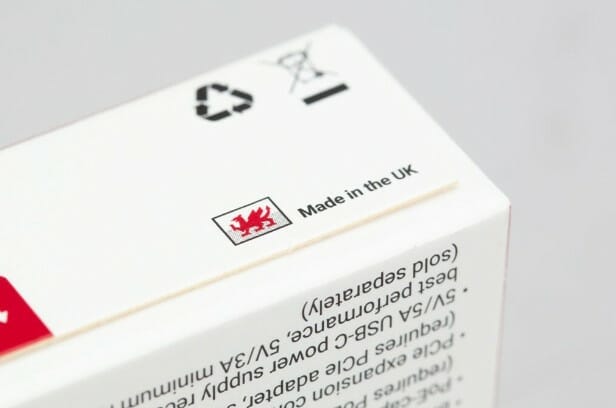 Endless Possibilities With Accessories for the Raspberry Pi 5
Every time Raspberry Pi launches a new flagship product, it doesn't just stop at the hardware. A slew of accessories complement the device, enhancing its potential and broadening its applications. The Raspberry Pi 5, in keeping with this tradition, introduces new and exciting accessories tailored to its specifications and needs.
1. Protective Case: The Raspberry Pi 5 boasts a revamped case, priced at $10. While maintaining the look of the Raspberry Pi 4, this case introduces enhanced usability and effective thermal-management features. Integrated with a 2.79 CFM fan, it ensures temperature-controlled cooling for the device. A significant design improvement is the ability to insert the Raspberry Pi 5 without needing to remove the SD card. Plus, stacking multiple cases or mounting HATs becomes a breeze with the new design. This case is produced in the West Midlands, UK by T-Zero.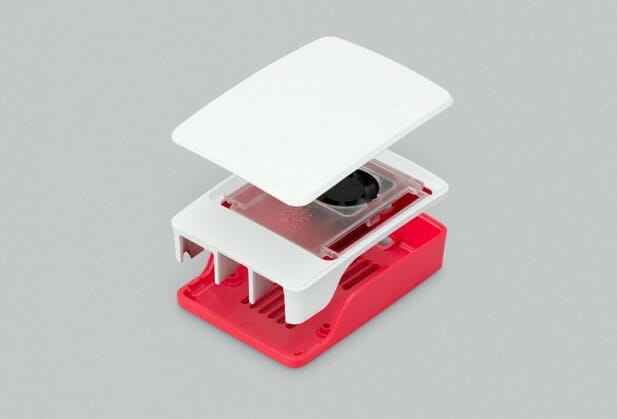 2. Active Cooler: While the Raspberry Pi 5 handles regular client workloads efficiently without any active cooling, there's the option of a $5 Active Cooler for those pushing their board under continuous heavy loads. It offers efficient cooling and is especially beneficial for those who love to overclock.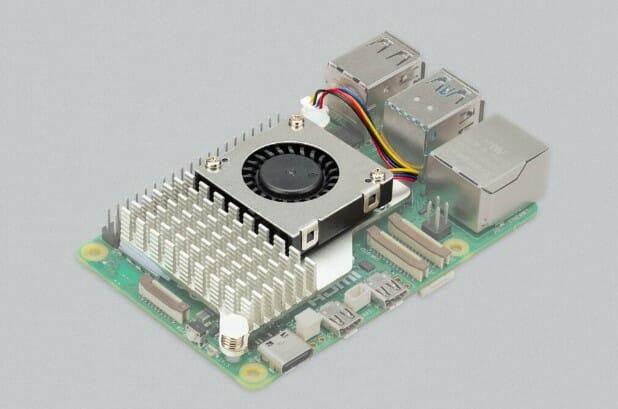 3. 27W USB-C Power Supply: Despite its efficiency and cooler operation than its predecessor, the Raspberry Pi 5 requires a sturdy power supply for intensive tasks. The $12 USB-C power adapter, with a 5V, 5A mode, ensures that users can drive high-power peripherals without compromising on performance, especially for those who fancy overclocking.
4. Camera and Display Cables: Compatibility is key. With a new higher-density pinout for the MIPI connectors, adapters become necessary to connect existing cameras and displays to the Raspberry Pi 5. The available FPC camera and display cables, priced based on their length, ensure seamless connections for various devices.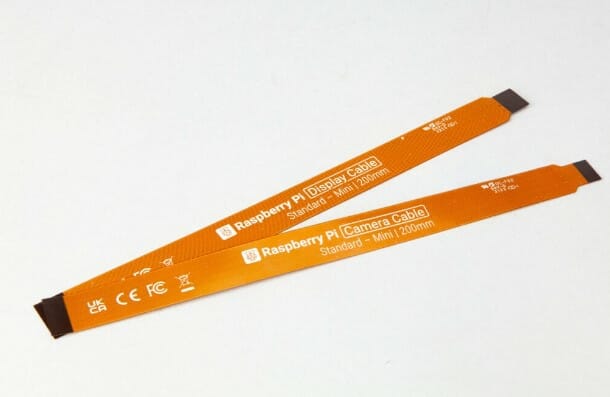 5. PoE+ HAT: Come early 2024, a new PoE+ HAT will be available. Designed to fit perfectly with the Raspberry Pi 5 case, this HAT boasts high efficiency across a broad range of output powers.
6. M.2 HATs: The Raspberry Pi 5 introduces a single-lane PCI Express 2.0 interface, and to capitalize on this, from early 2024, adapter boards will be available to connect NVMe SSDs and other M.2-format accessories. Depending on the device, users can choose from the standard HAT form factor or the L-shaped design.
7. Raspberry Pi Beginner's Guide, 5th Edition: At £19.99 ($24.99), this guide serves as the definitive manual for Raspberry Pi computers and accessories. The edition covers the latest Raspberry Pi 5 and the upcoming Raspberry Pi OS.
8. RTC Battery: For times when the main power supply is disconnected, a Panasonic lithium manganese rechargeable coin cell priced at $5 is available to power the Raspberry Pi 5's real-time clock (RTC).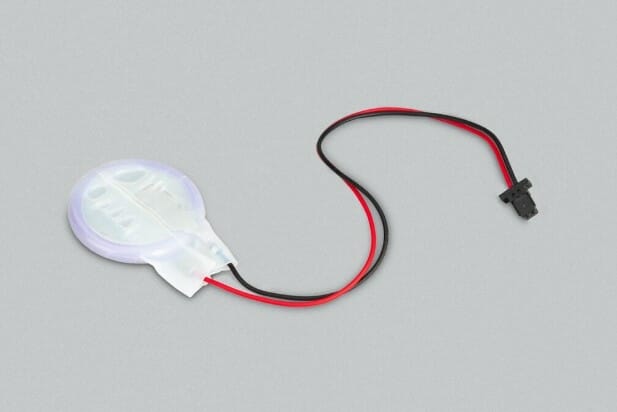 New Raspberry Pi Operating System
The Raspberry Pi OS, previously known as Raspbian, is the official operating system for Raspberry Pi devices. It is based on the popular Linux distribution, Debian, and is specifically designed to run on the Raspberry Pi hardware.
The upcoming Raspberry Pi OS, set to launch in mid-October, is expected to bring several improvements and new features to enhance the user experience. While specific details about the improvements are not mentioned, it can be anticipated that the new OS will likely include performance enhancements, bug fixes, and possibly new software additions.
It is worth noting that compatibility with Raspberry Pi 5 is mentioned, suggesting that the new OS will be optimized to run seamlessly on the latest iteration of the Raspberry Pi hardware. This compatibility ensures that users can take full advantage of the features and capabilities offered by the Raspberry Pi 5 when using the new OS.
Raspberry Pi 5 Release Date
As Raspberry Pi 5 is set to hit the shelves in late October, these accessories promise to take the user experience to the next level, catering to various needs and requirements. Whether you're a hobbyist, a professional, or just getting started with Raspberry Pi, these accessories ensure that you're fully equipped to make the most of your device.
Final Thoughts On The Raspberry Pi 5
The Raspberry Pi 5, with its groundbreaking features and innovative chipset, underscores the brand's unwavering commitment to delivering top-notch technology to the masses. From its evolved form factor to its highly anticipated operating system, this iteration aims to set a new benchmark in the single-board computing realm.
Marrying affordability with performance, the Raspberry Pi 5 is not just a step but a leap forward, poised to fuel countless creative projects and inspire the next generation of tech enthusiasts. As the Raspberry Pi journey continues, this latest release serves as a testament to the potential that lies in blending passion with innovation.
For more of a rundown on the Raspberry Pi 5 and all its features and improvements, check out the video below from ExplainingComputers.
---
---