Raspberry Pi computers make it easier for everyone to get involved with programming, coding, and even the physical aspects of building computers.
These affordable but high-quality mini-computers have easy-to-use motherboards and can be customized precisely as the user sees fit, to create all kinds of computers for all kinds of purposes! 
However, Raspberry Pi computers are not just prized for being highly customizable, but also for being highly portable and compact.
The small size of a Raspberry Pi makes it a great option for building a home entertainment system or building a digital library of classic and retro games from yesteryear!
The only trouble many people face is choosing the right monitor for their project. In this article, we will be focussing on the Raspberry Pi touchscreen options from cheap and cheerful, to expensive and high-end.
Let's go!
The Best Raspberry Pi Touchscreen
ELECROW 5″ Capacitive Touchscreen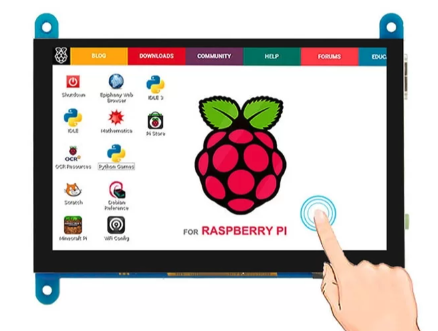 The ELECROW portable monitor is specially designed to work in tandem with all kinds of Raspberry Pi models, to make it easier than ever to access various services on the small computer. It can be used to show the direct results of changes you make to the Raspberry Pi code.
As well as this, however, you can also use the screen directly as a way to access your digital content libraries.
Let's say you wanted to use your Raspberry Pi to create a computer for accessing your favorite streaming services, or you wanted to access your own film and TV content, then you can easily rely on the 1920 x 1080p screen to deliver the best image fidelity possible. 
Controlling all of this is easy thanks to the responsive touchscreen, the numerous input ports, and the control buttons along the top of the unit. 
Its responsiveness, price, connectivity, and high levels of customer support make it our pick for the best Raspberry Pi Touchscreen.
The Best Of The Rest
Thinlerain 10.1 Inch 1080p Touch Monitor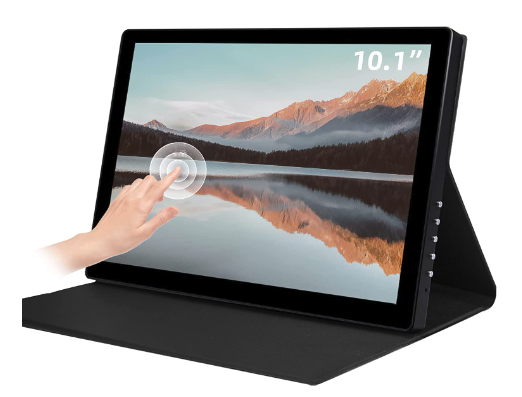 If you are planning to bring your monitor around from place to place, alongside your Raspberry Pi computer, then you will definitely get a kick out of the 10.1-inch display from Thinlerain.
One of the best features of this monitor is that it comes packaged with a magnetic carrying case that helps to protect the screen while you are out and about, but also acts as a stand to help you to angle the screen nicely as you use it so that you can see everything occurring on the screen wherever you bring it!
The screen itself features a fantastic resolution of 1920 x 1080 pixels, which is incredibly crisp, and means you can easily see everything on screen. This makes it perfect for enjoying digital entertainment.
The addition of control buttons on the side of the unit also makes it easy to control things such as the volume, and even the display input, as you can easily plug in two separate HDMI inputs! 
Finally, we have to mention how easy it is to interface with the screen via touch, as it features all of the standard gestures you would expect from popular touchscreen devices, such as 'pinch-to-zoom'!
Eyoyo 10.1 Inch Touchscreen Monitor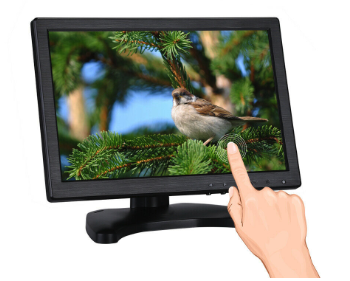 If you have a tendency to work at a desk that is often cluttered up with various projects, then the Eyoyo touchscreen monitor could be the one for you, as it comes packaged with a handy stand that helps to elevate the screen high above any surface you place it on, so that control is never hampered.
The screen itself may have slightly less resolution than other models but it more than makes up for it with incredible brightness and contrast, as well as a wide viewing angle, making it very handy to have around.
As well as this, hooking up the Raspberry Pi to interface with this screen is very easy thanks to the HDMI port, and hooking up various other devices is just as easy thanks to an additional VGA input. This makes it easy to use with multiple devices! 
HAMTYSAN 10.1 Inch Screen Monitor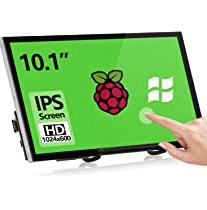 The Hamtysan touchscreen monitor is one of the most affordable options on this list, and while that does mean it comes at the expense of the visual quality of the screen, while its resolution is only 1024 x 600, it more than makes up for it with its incredible responsiveness and input options. 
The unit itself is also very slender, which makes it easy to integrate into an existing setup at your home or to simply stow away for when you want to take it out and about with you.
The small unit size also means that you can easily create your own small computer by encasing the screen and the Raspberry Pi into a single unit.

To Wrap Up 
There you have it! Though there are numerous traditional monitors that are compatible with Raspberry Pi computers, nothing could ever quite beat an easily portable touchscreen that you can drag around just as easily as the Raspberry Pi computer itself. 
Of all of the portable touchscreen options available on the market, these are easily the very best, because they offer a great balance between portability and image clarity, making them perfect for building entertainment systems, or even just a convenient way to interact with programming your Raspberry Pi computer!
Check out this useful video by Retro Man Cave that goes through everything you need to know about setting up the Elecrow 5-inch Raspberry Pi touchscreen.
If you have enjoyed this guide, please check out some of our other topics including; How to host a website on a Raspberry Pi, the most powerful Raspberry Pi alternatives, and the complete guide to Raspberry Pi audio.
Until next time.