In the new world of remote learning and working from home, you may have been recommended to download an application called AnyDesk – but what is it, and can it really help you out?
Here we are going to be looking at AnyDesk, what it is, and how it can be used to benefit you – or land you in serious trouble. 
So before you download AnyDesk, check out below for everything you need to know about AnyDesk and if it is safer for you to look at other pieces of software and applications. 
What Is AnyDesk?
AnyDesk has grown in popularity over the past few years as working from home and remote learning is slowly becoming the norm. It is basically an application that you can download onto your device, such as your computer or laptop, to allow remote access.
What this means is that other people can have access to your desktop from their own computer, even if they are miles and miles away.
This hands over control so they can transfer files and remotely control your computer even without access to the actual device itself. 
The company was founded way back in 2014, and has received extra investment and funding over the last few years and the need for remote access to devices grows during the pandemic. 
The software now uses a proprietary video codec called 'DeskRT' that allows higher quality video and sound transmission for clearer remote viewing.
It also comes with different features such as remote printing, a whiteboard tool, a chat function for improved communication between the parties involved, and unattended access which allows someone to access the device even when it is switched off. 
What Is AnyDesk Used For?
AnyDesk is used by millions of technicians worldwide for a number of different reasons. 
One of the most popular reasons for using AnyDesk is for IT service. It allows a company's IT department to access company computers remotely and see any issues for themselves instead of just relying on other members of the company to explain the issue down the phone. 
It's a huge help and a quicker way to solve technical issues, improving efficiency in companies.
IT support can also be given from independent companies who can fix any software issues on your computer from afar without the need for you physically taking your computer to a store for IT help. 
Another reason is for remote learning or working from home. Group projects are made easier by giving access to multiple people to the same device where they can all interact and view each other's work with ease.
This way, you don't have to be in the same building to view or edit someone else's work. 
Businesses may also use AnyDesk to monitor your progress at any time. While you are working, a team leader may pop in to see what you are working on and give you guidance.
This is a way for them to ensure that you are actually working and to check that the work you are producing is to their standard. 
AnyDesk And Scams
Of course, with this kind of technology comes a lot of security risks.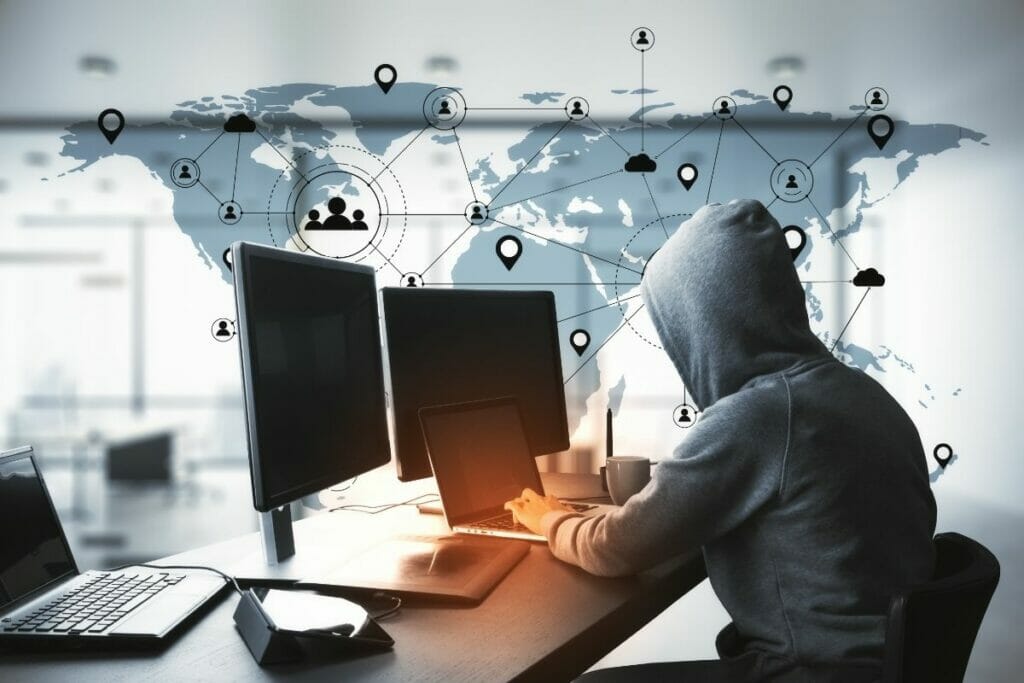 Scammers will try and get you to download and use AnyDesk under the guise of IT support so they can access your computer and see your desktop. From there, they will try and get access to your online bank account so they can drain you dry. 
Many people across the world have fallen for such scams, but this is not AnyDesk's fault – they are a legit remote access software company whose product is being misused. Also, it is down to you who you give access to your device.
AnyDesk has many steps in place to help prevent these scams including two-way authentication – the scammers will try and convince you to download the software and give them access. 
These scammers will call and pretend that there is an issue with your computer or internet and offer to help you. If you are not expecting such a call, do not trust them.
Also, banks and companies will never ask for your details over the phone so if they start asking for your bank details, then this is a huge red flag that they are actually scammers. 
They may even try to direct you to a certain website to download AnyDesk, but it is not actually a legitimate AnyDesk website and you are really downloading ransomware instead.
To prevent falling for this scam, all you have to do is hang up whenever a stranger asks you to download AnyDesk. Only give access to people you know personally and trust, or who you have contacted yourself through your company's IT department. 
As long as you remain vigilant to scammers, using AnyDesk is perfectly fine. 
Conclusion
So to be clear, AnyDesk is a legit company whose remote access software can be used for a variety of reasons including support and cybercrime. 
They are used by many businesses and IT support systems to help access malfunctioning devices to solve the issue and keep a company working. It is also used by businesses, colleges, and schools to help with remote learning and group projects over long distances.
Unfortunately, some people try to use AnyDesk with malicious intent. Cybercrime scammers will try and contact you to convince you to download AnyDesk and give them access to your desktop.
From there they will try and access your private information, including your bank details, to drain your bank accounts dry.
To avoid this, simply hang up and refuse to give anyone you don't know access to your desktop.
By only allowing people you personally know, such as an IT support technician or your college lecturer, access to your desktop at a given time, you know that they will not try to access your bank account. 
So despite this, AnyDesk is still a very valuable tool when it comes to working and learning remotely. Used all across the world by hundreds of businesses, AnyDesk is still perfectly safe to use – as long as you remain vigilant against unexpected phone calls and texts from so-called 'help' lines.